Allied Boiler & Supply "Hands-On" Training School
Our three-day, hands-on boiler training school is designed to teach both basic and advanced troubleshooting techniques. We utilize an in-house boiler room station that represents similar conditions found in the field environment, and our instructors have over 90-years combined field experience. Training with these operational boilers has proven to be a more productive learning experience versus sitting in a classroom working on simulator boards or simply visiting a boiler room.
The training school runs consecutively for three days with a focus on boiler safety and troubleshooting, and class is held within the boiler room station itself. Training manuals are supplied to all students for use during the class as well as to be kept for future reference. The hands-on training class includes water treatment, component identification, proper installation, sequence of operations, troubleshooting, and combustion analysis. Working with purposely sabotaged boilers on the final day offers students the opportunity to use the information they have acquired in class to evaluate and repair the problems they discover. Students are encouraged to ask questions and share knowledge about situations in the field. We have found this exchange of information to be very valuable and conducive to the group learning process.
Call us at 1-800-858-0484 or email
info@alliedboiler.com
for more information on scheduling and costs for our "Boiler Tech Training School."

Click to here download a printable brochure
2021 Three-Day Training School Dates:
May 17th - 19th (Class Full - Registration Closed)
July 12th - 14th (Class Full - Registration Closed)
Nov. 8th - 10th

Class Hours
9:00 AM to 4:00 PM CST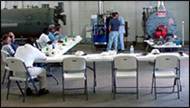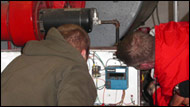 © 2014 • Allied Boiler & Supply, Inc. • 419 S. Front St. • Murfreesboro, TN 37129 • Ph: (800) 858-0484 • Fax: (615) 890-6607